Hot Tub Delivery Information
Delivery Information for all hot tubs provided by Heavenly Hot Tubs Group Ltd
Electrical Information
Any electrical supply for a hot tub outdoors should be installed by a competent, certified electrician.
All works must be certificated to part P of the building regs. Electrical installation work should always conform to BS:7671 17th edition of the wiring regulations
13 AMP Electrical Requirements
13AMP plug-and-play hot tubs simply plug into a standard domestic power supply so all you would need for a 13AMP hot tub is an outdoor waterproof plug socket with RCD protection 2m away from spa. If you cannot provide this external socket in time, please provide a 13amp extension reel that we can use on the day to commission the spa. It is important that you get a proper external socket installed soon after and before use.
32A Hot Tubs
4mm/6mm 3-core SY cable - leading to where spa will be positioned

32A Lockable Rotary Isolator Switch IP65 - On a wall, or point close to your tub
Electrical requirements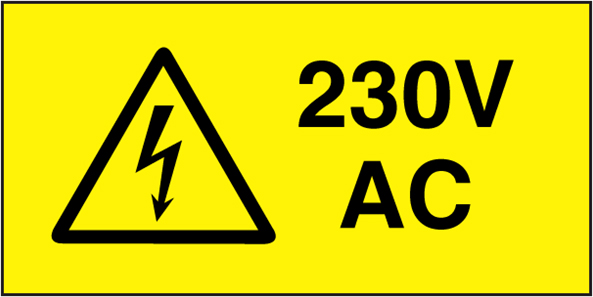 Most, if not all domestic Hot Tubs are designed for single phase 230v AC operation.
We will tell you the total load the Hot Tub will draw at full operation. Your certified electrician will then be able to work out what size of cabling is required. Even the smallest Hot Tub would usually require at least a 16 amp supply. Bigger Hot Tubs with 3 pumps or more generally require a 32 amp supply but this is a guide only.
ALL outside electrical supplies must have mechanical protection, this is either in the form of steel wire armoured cable (SWA) or suitable conduit.
The Hot Tub MUST have its own dedicated circuit with correct size fuse breaker and RCD protection. See hot tubub specifics for further details.
A rotary isolator switch not closer to the Hot Tub than 2 metres is required so that the Hot Tub can be isolated from the main supply quickly and efficiently.
We generally ask for a coil of cable to be left immediately next to the Hot Tub base so that we have enough to wire it in whichever final position the customer chooses.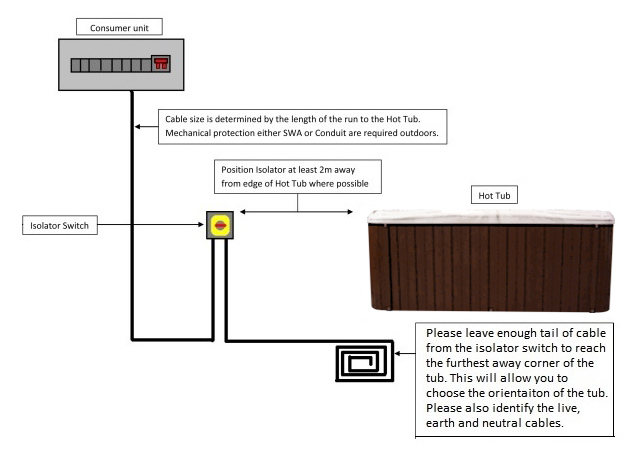 Heavenly Hot Tubs Group specific requirements for circuit breakers.
Almost all hot tubs require a 32 Amp RCD protected circuit breaker fitted to your consumer unit. From the consumer unit you should have suitable armoured cable or cable protected by a suitable conduit to a suitable waterproof outdoor isolator switch 2 or 3 metres from the tub. Please consult your electrician for cable thicknesses.
From the isolator switch there needs to be enough cable left to reach the furthest away corner of hot tub so that our engineer can connect the tub to the electrical supply.
Delivery Requirements:
Where to position the Hot Tub:
Choose an area that will be suitable for you, remembering that you may need to be near a changing area, some privacy may be required, falling leaves may be a concern, and that the light/sunny areas are more suitable. Sheltered areas in the summer may become open during the winter. An area in front of your hot tub should be clear so that grass and debris are not transferred to the water. You know your garden.
Access To The Base:
Firstly, you must ensure you have adequate access for the size of the spa you have chosen. Please note: The dimensions listed in the brochure are the total outer dimensions of the hot tub + or – 5% also allow 5mm for packaging.
Check the widths & heights of doorways, passages and gates to make sure the hot tub can pass through. Gates, fences and doors may need to be removed (prior to delivery).
Make sure that there is nothing protruding such as drainage pipes or sills that could obstruct the way.
Check to see if there are any low roofs or branches that would hinder vertical clearance. If there are any corners on the path to your designated installation site, check to see the hot tub will pass.
The route to where the hot tub is to be sited should be flat and level and not soft ground. Check and inform us if there are any slopes, retaining walls, steps or level differences that may cause problems. Any extra resources required would be charged extra.
Under special circumstances, where there is no clear or easy route, a crane can be used to position your hot tub. Please contact us to arrange this service if you think it may be necessary. Please note that the cost of the crane would be charged extra.
Most hot tubs are delivered on their sides on a specially made hot tub cart, (see picture). You must therefore make sure the access is big enough for the hot tub and the cart. Please bear in mind the height of the hot tub will increase slightly when on the cart by approximately 6 – 8 inches (150 – 200mm).
If access is through/across a neighbouring property/land you must seek permission. Our installers will not proceed without your assurance that permission has been gained by you.
PLEASE NOTE – THE HOT TUB CANNOT BE REMOVED FROM THE HOT TUB CART OR SKID PLATE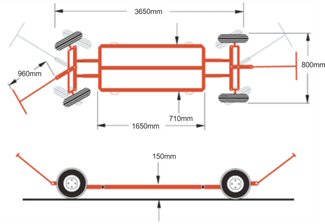 Smaller hot tubs (hot tubs under 1.9m x 1.9m x 750mm) may be delivered on a skid plate. This enables the hot tub to be moved easily over perfectly level and hard ground (eg. level slabs, etc). Please specify if this is required before delivery. However, the ground leading to the hot tub must be very level and hard (i.e. slabs, concrete or macadam), as the castors will dig into soft ground and loose stones.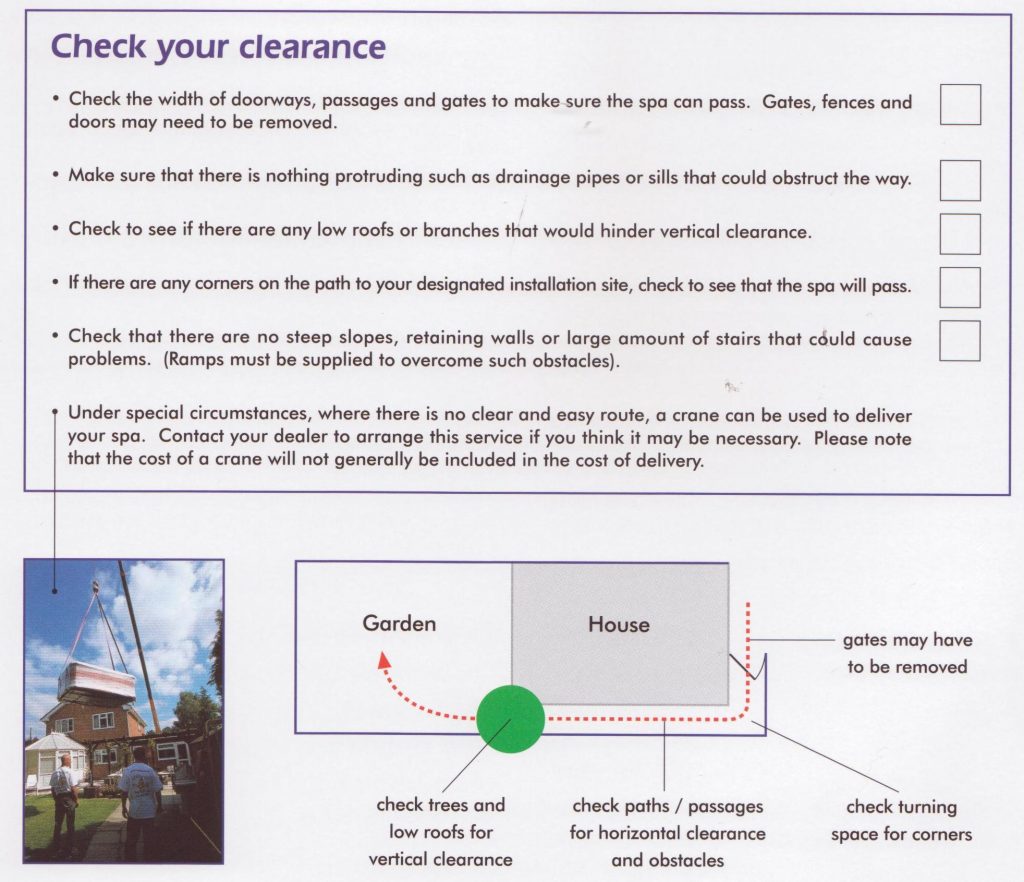 The Base/Plinth
Wherever you decide to install your hot tub, it is essential that a solid foundation be provided. Grass is not suitable. Please note: It is the responsibility of the customer to provide a suitable base that is flat, level and solid to prevent distortion from occurring. Any structural damage caused by improper base or base failure may invalidate manufacturer's warranty.
An ideal base would be concrete 4 – 6 inches (100 – 150mm) thick. However, existing patio slabs and block paving may be utilized but must be flat, level and on a satisfactory sub base. Wooden decking is also a popular base. However, all bases must be able to take the weight of the hot tub plus the water and occupants. No form levelling by means of "packers" is acceptable.
NB. Bases must be prepared in plenty of time prior to delivery, thus allowing time for the concrete, etc to fully cure.
Service Access
Access is required around the hot tub for any future maintenance, ideally 24inches (600mm). If this is not practical then the area should be of sufficient size so that the hot tub can be moved when empty of water for access. The front has to be accessed for routine maintenance.
Hose Pipe & External Electrical Socket
A mains water supply with reasonable water pressure, connected to a garden hose must be provided by the customer to fill the hot tub. This should be flushed through to expel stale water. The hose can also be used to empty the hot tub when changing the water. A standard 240V 3 pin electrical socket is required within 10 metres of the base for lowering the hot tub.
Chemicals
A degree in chemistry is not required! A chemical starter pack can be purchased with your hot tub. The installers will explain the treatment required. They will also show you how to conduct the test with remedial actions. A hot tub water treatment manual will also be supplied with the hot tub.
Hot Tub Controls
The hot tubs all have digital controls and you will be shown how the main controls work by the installers. However an operation manual is supplied with the hot tub for you to be able to set the controls for your ease and comfort.
IMPORTANT NOTE:
Please be advised that return visits due to non-preparation of base, poor access, unsuitable ground or obstacles, unsuitable electrical/water supply, etc are chargeable at the Company's hourly rate.
Manpower
We supply two people to install the hot tub on our hot tub cart.
They will NOT be able to remove the hot tub from the hot tub cart until it reaches the base.
If access is difficult, extra assistance by able bodied people will be required, which you will have to organize prior to the delivery.
If you are in any doubts with your access, we will be happy to arrange a site visit or look at photos emailed to us.
We hope this email helps you prepare for your hot tub delivery.
If there are any questions or queries you may have, please ask us prior to delivery.
Unfortunately, we cannot advise on how to cope with the anticipation and excitement of owning a hot tub!
Hot Tub Dimensions Weights & Power Supply
Please see specification for the individual hot tub models on the website.