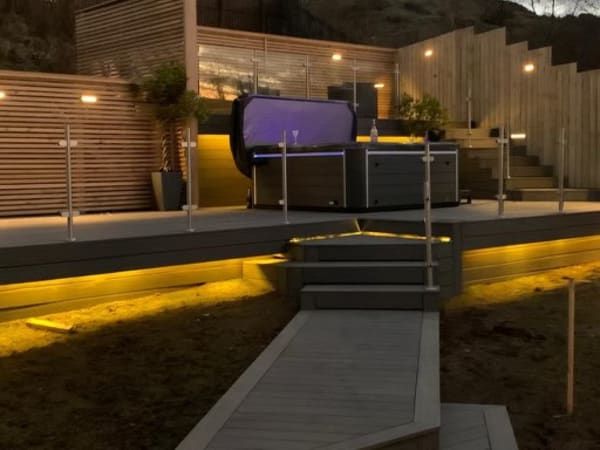 Grand River
The Grand River is at the top of the range of our spas from North River, this is a very large hot tub coming in at 2.2m x 2.2m and 90cm in depth.
It is a perfect addition for a large family coming with 2 hydrotherapy loungers and 3 seats. In the centre of the hot tub it has a volcano jet which is a great addition to enhance the hydrotherapy experience.
Like the Elk River it comes with an Aquatic AV bluetooth audio system, we ship with an upgraded cabinet meaning you get LED strip lighting which looks fantastic when dark.
Size (cm) (L x W x H): 220 cm x 220 cm x 90 cm

• Seats: 5
• Total Jets (Stainless Steel): 100
• Jet Pump(s): 2 x 3HP
• Air Blower: 700W
• Heater: Max 3kW
• Filter System: 100sq ft
• Gecko Control System: √
• Fiber Reinforced Acrylic Shell: √
• Durable Cabinet: √
• Perimeter Insulation : √
• Ozone Water Clarification: √
• Molded, High Impact Base: √
• Structurally Hard Frame: √
• Stunning LED Spa Light: √
• Underwater Flood Lighting: √
• Adjustable Aromatherapy: √
• Outdoor Step: √
• Efficiently Operational Plumbing: √
• High Destiny Foam Cover: √
• Relaxing Lounger Seats: √
• Water Fountains / Cascade: √
• Stereo System: √
• Quick-Hit™ Bluetooth Button: √
• Electrical (max): 32 Amp
• Dry Weight : 355 kg
• Filled Weight : 1,520 kg
• Water Capacity: 1,300 L
Sterling Marble Shell / Grey Cabinet
Midnight Shell / Grey Cabinet
£7995 - Includes FREE steps and chlorine chemical starter pack
Finance Available