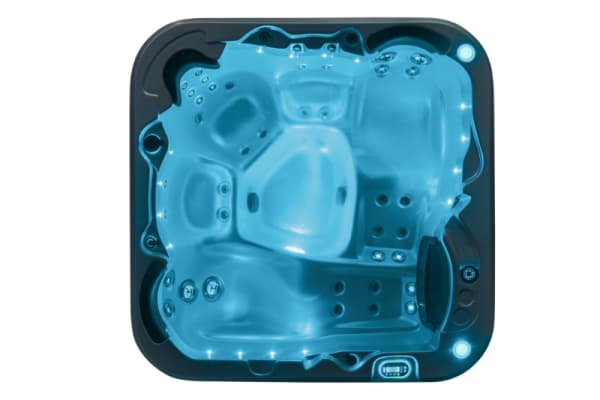 Mercury
The Mercury is Vortex's biggest selling family spa. An amazing 46 therapeutic jets make sure you have the ultimate relaxation and massage experience, no matter where you are seated. The twin lounger design within the Mercury comfortably seats up to two adults and two to three children, making entertaining easy.
The Mercury is available with numerous features including Vortex's premium hydroflow jets, jet lighting system package and UV sterilisation system. The air blower system built into the Mercury features aromatherapy functions, with up to 12 aromatherapy fragrances available. Also built into the Mercury is the Vortex neck therapy collar, an extremely relaxing addition for the whole family. An elegant backlit illuminated water feature creates a tranquil setting and increased relaxation while also providing great entertainment for the kids.

• Name: Mercury
• Size (cm) (L x W x H): 200 x 200 x 82 or 92
• Seats: 5 Seats (2 Loungers)
• Total Jets (Stainless Steel): 46
• Therapy Rating: 7/10
• Jet Pump(s): 3hp x 1
• SpaNet Silent Circulation Pump: 250W
• Balboa BP Control System: √
• Air Blower: 1,000W
• Balboa Heater: 3kW max
• WiFi App-Based Remote Control: Optional
• LED Backlight Water Cascade: √
• Aromatherapy System: √
• Backlit Laminar Jet Water Feature: 2
• Non-Slip Backlit Drink Holders: 3
• Smart Stream BBA Bluetooth Stereo System: Optional
• Wine Cooler / Drinks Chest: ×
• Individual Seat Pressure Controls: √
• Neck Therapy Collar: √
• High Pressure Volcano Jet: ×
• Hydroflow Bearingless Jets: √
• Underwater LED Floodlight: √
• Programmable LED Lighting Effects: √
• Hydroglow Jets and Control LED Lighting: Optional
• Perimeter and Cabinet Lighting: √
• Purezone Ozone Water Clari?er: √
• Purezone Multi Stage Filtration: √
• Purezone UV Steriliser: Optional
• High Density Lockable Spa Cover: √
• Base and Perimeter Insulation : √
• Shell Insulation: √
• Hybrid Heatpump : Optional
• Arctic Pack Insulation: Optional
• USA Made Aristech Acrylic: √
• Thermobond Multi-Layer Oven Cured Shell: √
• 12 Cabinet / Shell Colour Combinations: √
• Timber-Free Permaframe Construction: √
• Thermoclad No Maintenance Cabinet : √
• High Impact Moulded ABS Base: √
• Dura?ex No Kink PVC Plumbing: √
• Electrical (max): 16 amps
• Dry Weight : 292 kg
• Filled Weight : 1,292 kg
• Water Capacity: 1,000 L
Spa Colour Options
• Gypsum
• Ocean wave
• Pearl shadow
• Stirling silver
Cabinet Colour Options
• Chocolate
• Coastal Grey
• Natural
Lifetime Warranty on frame:
Vortex's permaframe is guaranteed for life against a loss of structural integrity leading to the spa being inoperable.
10 Year Non Pro rata Structural Warranty:
All Vortex Spas are offered with a 10 year 'non pro-rata' shell structure warranty.
This means that if the spa's shell cracks resulting in water loss, for a period of 10 years, the spas shell shall be replaced.
5 Year Non Pro rata Acrylic surface warranty
All Vortex Spas are offered with a 5 year 'non pro-rata' acrylic surface warranty. This means that if the acrylic surface blisters resulting in water loss for a period of 5 years, the spa's shell shall be replaced
5 Year Plumbing, Heater & Jet Warranty*
The plumbing system of all Vortex spas is warranted against leaking for 5 years.
The heater and jets of all Vortex Spas are warranted against defects for a period of 5 years.
2 Year Pump & Equipment Warranty*
The circulation pump, jet pump(s) and electronic control system of all Vortex spas are warranted against defects for 2 years.
*First 12 months includes parts and labour cost. After 12 months parts only. Full written details on request.