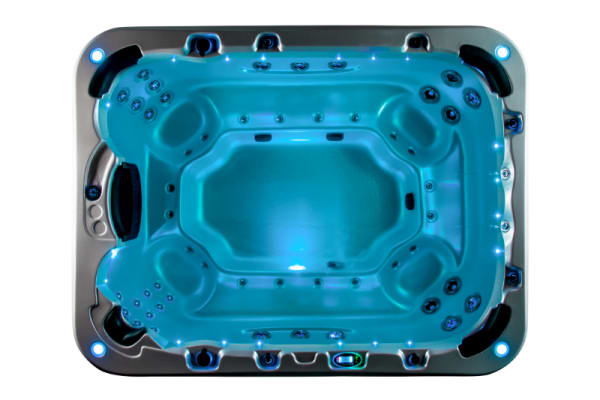 Titanium Hydroplus
With seating for nine, up to 54 jets and three jet pumps, two lay down seats, a neck massage seat and a multitude of water features and lighting options, we don't think you could build a better, bigger and more impressive spa than the Vortex Titanium.
Name: Titanium (Hydroplus)
Size (cm) (L x W x H): 300 x 230 x 90
Seats: 9 Seats
Total Jets (Stainless Steel): 54
Therapy Rating: 8/10
Jet Pump(s): 3hp x 2
SpaNet Silent Circulation Pump: 250W
Balboa BP Control System: √
Air Blower: 1,000W
Balboa Heater: 3kW max
WiFi App-Based Remote Control: Optional
LED Backlight Water Cascade: √
Aromatherapy System: √
Backlit Laminar Jet Water Feature: 2
Non-Slip Backlit Drink Holders: 4
Smart Stream BBA Bluetooth Stereo System: Optional
Wine Cooler / Drinks Chest: ×
Individual Seat Pressure Controls: √
Neck Therapy Collar: √
High Pressure Volcano Jet: ×
Hydroflow Bearingless Jets: √
Underwater LED Floodlight: √
Programmable LED Lighting Effects: √
Hydroglow Jets and Control LED Lighting: √
Perimeter and Cabinet Lighting: √
Purezone Ozone Water Clari?er: √
Purezone Multi Stage Filtration: √
Purezone UV Steriliser: √
High Density Lockable Spa Cover: √
Base and Perimeter Insulation : √
Shell Insulation: √
Hybrid Heatpump : Optional
Arctic Pack Insulation: Optional
USA Made Aristech Acrylic: √
Thermobond Multi-Layer Oven Cured Shell: √
12 Cabinet / Shell Colour Combinations: √
Timber-Free Permaframe Construction: √
Thermoclad No Maintenance Cabinet : √
High Impact Moulded ABS Base: √
Dura?ex No Kink PVC Plumbing: √
Electrical (max): 32 amps
Dry Weight : 405 kg
Filled Weight : 2,395 kg
Water Capacity: 1,990 L
Spa Colour Options
Gypsum
Ocean wave
Pearl shadow
Stirling silver
Cabinet Colour Options
Chocolate
Coastal Grey
Natural
Lifetime Warranty on frame:
Vortex's permaframe is guaranteed for life against a loss of structural integrity leading to the spa being inoperable.
10 Year Non Pro rata Structural Warranty:
All Vortex Spas are offered with a 10 year 'non pro-rata' shell structure warranty.
This means that if the spa's shell cracks resulting in water loss, for a period of 10 years, the spas shell shall be replaced.
5 Year Non Pro rata Acrylic surface warranty
All Vortex Spas are offered with a 5 year 'non pro-rata' acrylic surface warranty. This means that if the acrylic surface blisters resulting in water loss for a period of 5 years, the spa's shell shall be replaced
5 Year Plumbing, Heater & Jet Warranty*
The plumbing system of all Vortex spas is warranted against leaking for 5 years.
The heater and jets of all Vortex Spas are warranted against defects for a period of 5 years.
2 Year Pump & Equipment Warranty*
The circulation pump, jet pump(s) and electronic control system of all Vortex spas are warranted against defects for 2 years.
*First 12 months includes parts and labour cost. After 12 months parts only. Full written details on request.